If you're like most marketing agencies, small-to-medium businesses (SMBs) make up the majority of your clientele. There are many reasons why that's the case. First of all, there are a lot of SMBs out there—experts estimate that SMBs represent close to half of the U.S. GDP.
In addition, many SMBs are strapped for resources and simply don't have the capacity or budget to build an in-house marketing team with multiple areas of expertise. Therefore, the vast majority of SMBs—70% according to a recent survey we conducted—look to outsourced marketing services or external agencies to help their business grow and keep their pipeline active, freeing up internal teams to focus on core business activity.
The potential for marketing agencies with SMBs is huge, but there is a major challenge—retention. Although it's often relatively easy for marketing agencies to generate SMB business for a one-off project like building a website, retaining clients over time often proves to be much more difficult.
There are many reasons why retention is such a challenge. First of all, there are a lot of fish in the sea—in this case, a lot of marketing agencies competing for SMB business—and competition is tough. Second, SMB revenue tends to fluctuate a lot. That means that a business has enough to cover a marketing agency's services in a good month, but in a bad month, an agency retainer might be on the chopping board. Last, a marketing agency's services are often a big expense for an SMB and not something they take lightly. When they don't see results right away, the SMB often decides to move to a competitor or forgo the services altogether.
How can marketing agencies overcome these challenges and capitalize on the business potential of the SMB market in the coming year? To answer that question, and better understand how marketing agencies can improve SMB retention, we conducted a survey of 500 small-to-medium-sized business owners in June 2023. Respondents were from all over the United States and were comprised of a variety of industries including healthcare, fitness, beauty, tutors, and legal services. After reviewing the survey data and insights, we've come up with key tips for retaining SMB clients.
SMBs understand the importance of marketing and marketing agencies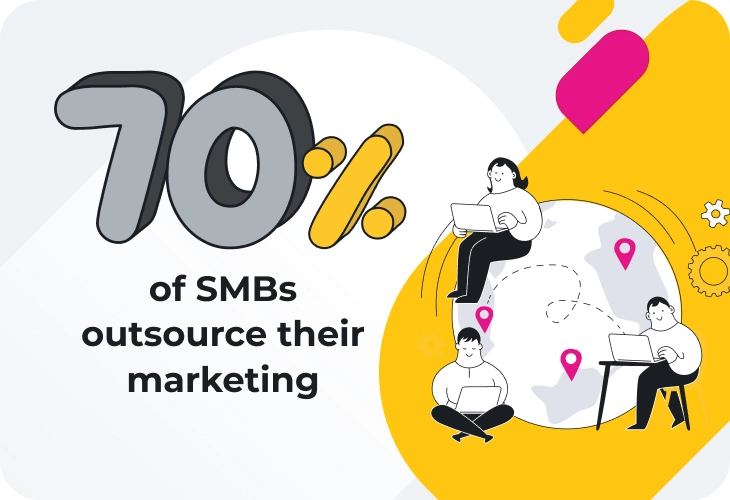 Before we delve into the challenges and how to overcome them, the good news is that most SMBs we surveyed understand that marketing is important and are willing to invest in marketing services. As mentioned before, 70% of respondents outsource their marketing efforts, and 52% expect their marketing budgets to grow in the next year, much of which will go to external providers. This shows exactly how important marketing efforts and marketing services are to small business owners.
On the other hand, it's important to note that their marketing budgets are limited—80% of SMBs who use outsourced marketing providers spend $3000 or less a month, so agencies that charge more than that may be losing business.
How to retain your SMB clients
So, how do you keep your SMB clients from jumping ship? Here are some simple ideas that can make a big difference in retaining clients.
Meet SMBs' needs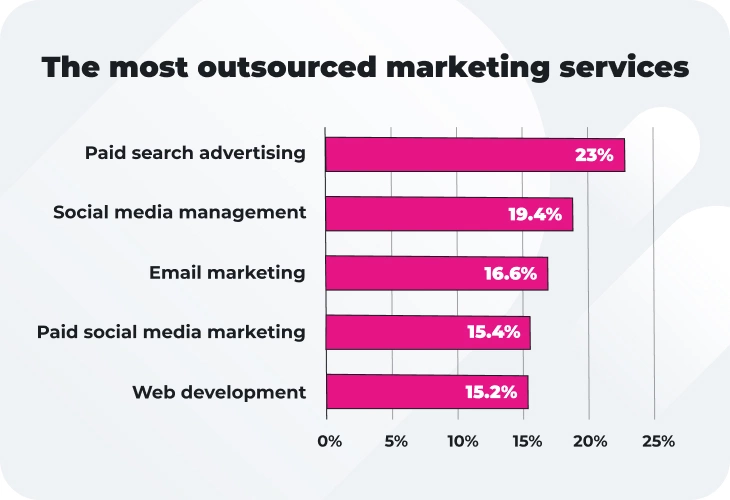 The first thing you need to do is make sure that your services align with what SMBs really need. Not sure what that is? Our survey found that the most outsourced marketing services in the past year were paid search advertising (23%), social media management (19.4%), email marketing (16.6%), paid social media marketing (15.4%), and web development (15.2%). If you don't offer those services, or if they aren't your focus, consider adding them to your offerings.
Help them with their own customer retention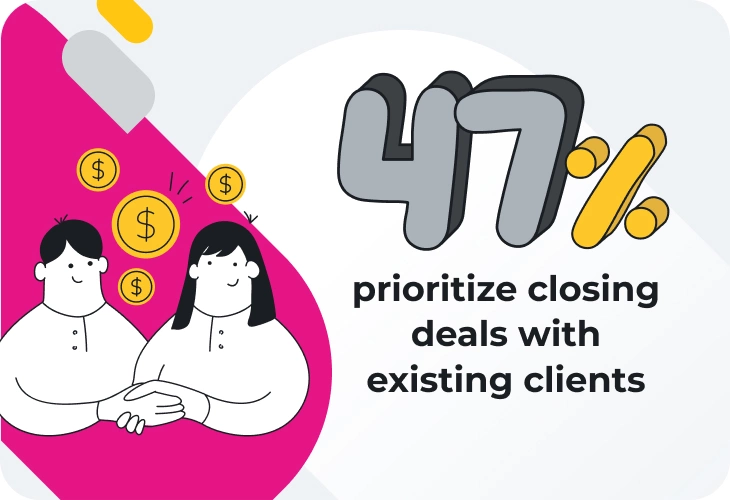 You aren't the only one struggling with customer retention—it's a challenge for many of your SMB clients as well. Most SMB owners know that it's easier to sell to existing customers than find new ones—47% of the respondents in our survey prioritize closing deals with existing clients. However, not every SMB knows how to accomplish that goal. If you can help them figure out how to generate repeat business and make the most out of the leads you bring them, they're likely to stick with your agency for the long run.
Invest in services that boost customer loyalty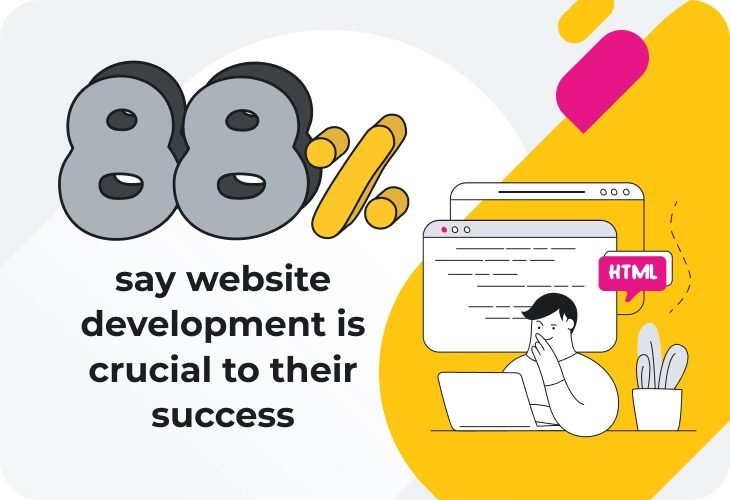 One-off services like website development and design are critical for bringing in new clients—88% of respondents in our survey said it was crucial to their success. But it's important to supplement one-time services with evergreen offerings that will keep your clients with you over time. That includes things like ongoing consulting services, or tools and services that meet the daily needs of your SMB clients, such as a comprehensive business management solution. If you don't have the internal capacity to develop those tools, it may make sense to outsource them or adopt a white-label solution that allows you to provide ongoing added value to your clients.
Deliver value fast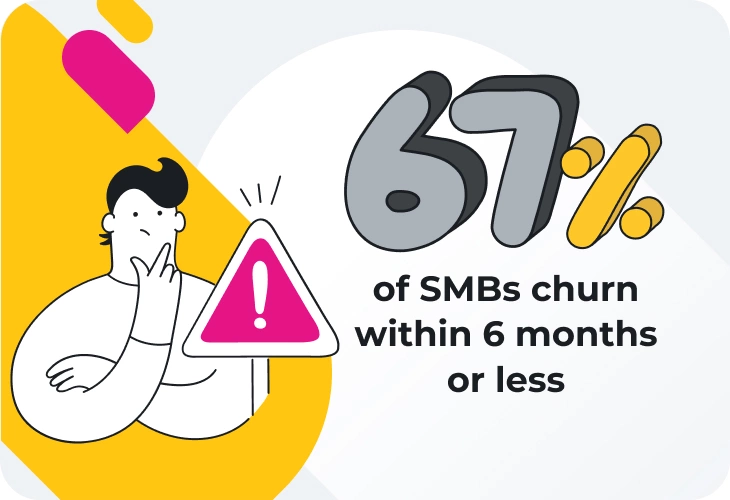 SMBs often work with a limited cash flow and similarly limited patience. That means that if your agency doesn't deliver results right away, chances are that you'll lose their business quickly. In fact, our survey showed that 67% of the small businesses that outsourced marketing services in the past year switched providers within six months or less and most switched because they didn't see revenue-driving results.
But high-value marketing strategies take time. So how do you keep SMBs on board in the meantime? Here are some tips that deliver value fast, and keep clients around for the big wins.
Celebrate the small wins: Don't wait to reach your ultimate goals—showcase the impact of your services along the way to keep your clients from feeling like their limited marketing budget is disappearing into a void.
Start with low-hanging fruit: When your customers receive value in one area, they'll have more patience to wait for results in others.
Impress them by knowing their business: SMBs often feel like external agencies don't get what they do. Invest in learning about the various sectors you work with, so what you say makes sense to your SMB clients.
Offer value-adding tools and capabilities: Help your clients access tools and services they may not be familiar with, even if those tools aren't part of your core offering.
Be a strategic partner, not a vendor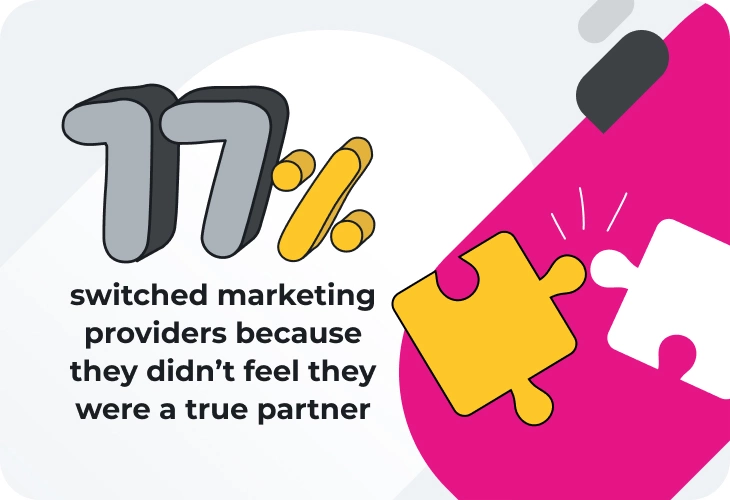 Running a small business can be a lonely endeavor, especially when you're a one-person show, which a majority of our respondents are. There are endless risks and dilemmas, and there isn't always a team available for brainstorming.
As an external agency, you can help fill that void and become a partner in your client's journey. Be proactive in your communication, and conduct regular check-ins to see how they're doing. Provide guidance along the way, even if it isn't directly related to your original contract.
If you invest in building a relationship with your clients, they'll be less susceptible to outreach from the competition. Our survey showed that 17% of respondents switched their external marketing provider because they didn't feel that they were a true partner. Don't let that happen to you.
Retaining clients is possible—with the right tools
There's no question that retaining SMB clients is one of the top digital marketing agency challenges. From budget fluctuations to unrealistic expectations or limited patience, SMBs can be a tough crowd to please. Yet it isn't mission impossible either. As our survey shows, SMBs are willing to invest in marketing and are interested in using external providers for marketing services. By meeting their needs, delivering value fast, becoming a partner, and more, you can actualize the full lifetime customer value of your SMB clients.
inTandem, vcita's white-label partner solution, can help support your SMB client retention efforts as well, giving you a "sticky" offering under your brand. It's a complete business management solution based on over a decade of experience serving the unique needs of SMBs. inTandem enables SMBs to manage their entire work day, including time, money, clients, and marketing all in one place, whether at the office or on the go.
Even better, when your clients use inTandem, they spend time in your app on a daily basis and see your logo and brand colors everywhere, reinforcing the idea that your agency is the go-to for all their business needs, from specialized marketing expertise to essential services. With the expected rise in marketing budgets in the coming year, it's a great way for marketing agencies to make their value proposition extremely appealing to small businesses and stand out from the competition.