The SMB market is rapidly closing the digital gap. Each passing year, small business owners discover and adopt new tools that boost productivity, foster collaboration, and meet elevated customer experience standards.
According to a survey conducted in December 2021 among over 2000 small business owners, 71% implemented new SaaS solutions into their tech stack that year. In December 2022, that number remained consistent and increased to 75%.
With the increasing demand for SaaS solutions, many MSP businesses are expanding their product offerings to meet the growing needs of the SMB market. In fact, MSPs are finding that introducing these new solutions can help build an upsell pipeline and increase recurring revenues.
Just as retailers place chocolate bars and batteries by the checkout, this concept of expanding consumers' baskets is gaining popularity among tech solutions and service providers as well. Whether you sell hardware, connectivity products, voice, or video, there is an entire collection of services that can be added to your catalog to complement and enrich your current proposition.
Creating an "after-market"
The art of creating an "after-market" lies in your ability to offer customers a wide variety of services and products beyond their initial "foot in the door" purchase. It's no wonder that more and more MSP businesses are proudly offering productivity products, Ucaas, workforce management, and many other SaaS solutions. An expanded product catalog can quickly translate into increased ARPA and LTV, along with larger revenue margins.
Some of these complimentary services can also position your organization as a long-term partner to your customers. If your current services are one-time engagements, you'll find that offering solutions that serve your clients throughout the entire lifecycle of their business, will create long-lasting engagement with clients.
The evolving role of the MSP is shifting away from single-solution shops and moving toward "Ecosystems Providers": one-stop shops for businesses to build their entire tech stack, from traditional ITware to advanced collaboration, productivity, and future-of-work solutions.
If you're looking to expand your SMB product proposition in a way that prioritizes revenue and customer value, here are four ideas to consider: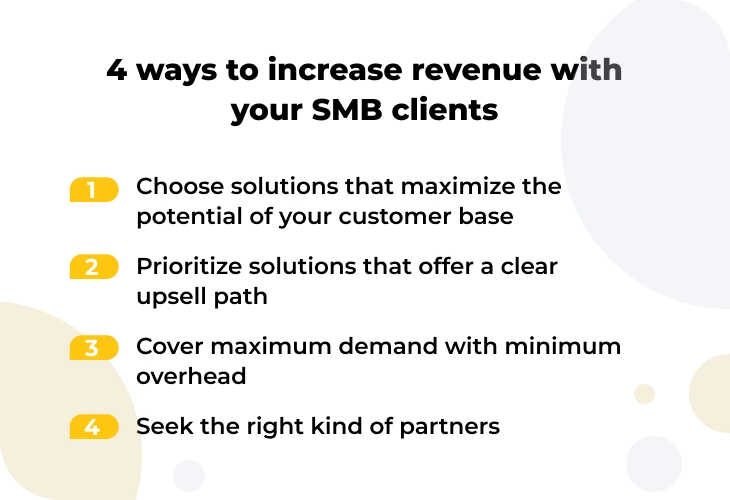 1. Choose solutions that maximize the potential of your customer base.
While many SaaS solutions are generally in high demand, it's important to carefully evaluate the compatibility of a new solution with your existing customer needs. Acquiring new customers is significantly more costly than retaining and expanding relationships with existing customers. Therefore, selling a new solution to an existing customer is usually easier and more cost-effective than selling a new product to a new customer.
When evaluating a new solution, prefer solutions that help you maximize your existing customer base without the need to chase new business. Leverage these additional solutions to increase ARPA and customer LTV.
2. Prioritize solutions that offer a clear upsell path.
Introducing a new collection of services to your portfolio is great news from a revenue perspective. However, it's easier said than done. When introducing products into your trusted arsenal of solutions can create considerable operational overhead. You'll likely encounter challenges such as training your team to sell and support the new product, high integration costs, and a clunky upsell process that hinders the establishment of a substantial revenue source. If only it were as simple as placing chocolate bars near the checkout…
The good news is that building an upsell path from "foot in the door" services to add-ons and extensions can be streamlined when discovery is made easy. When clients are introduced to value-adding services in the context of a real burning business need, and as part of the consumption of a service they already know and appreciate, the likelihood of making an additional purchase will significantly increase. For example, a client who has purchased a connectivity service to accept phone calls and messages from prospects will likely need a CRM system to manage customer records and engagements.
3. Cover maximum demand with minimum overhead.
MSPs should aim to expand their product portfolio with solutions that address a wide range of customer needs, rather than focusing on just a few aspects. It is beneficial to seek out "all-in-one" type solutions that enable you to provide a diverse array of offerings without the burden of introducing multiple individual products.
By adopting such solutions, MSPs can streamline their operations, offer holistic solutions to clients, and minimize the complexities associated with managing and integrating multiple disparate products.
Most MSPs we know don't add new services to their catalog every day, so if you are already going through the process of adding a solution to your offering, make sure that solution is comprehensive enough to secure positive ROI.
4. Seek the right kind of partners.
The success of a service often hinges on the quality of training and enablement services provided by the vendor.
Whether you offer your own support or rely on vendors for such services, having a well-defined vendor support and escalation process is crucial for building and maintaining user trust. Another element of vendor qualification is having comprehensive training programs, well-documented resources, and tools that enable quick onboarding and training of your own sales teams.
Vendors can and should be more than just vendors; they should be SaaS partners. A true SaaS partner will be highly committed to your joint success, providing your team with all the training and resources needed to achieve continuous success. Furthermore, a true SaaS partner will offer a high degree of integrative capabilities, allowing you to connect their product with other solutions and offer your clients a seamless and deeply integrated digital experience.
MSPs can navigate the evolving SMB market
As MSPs navigate the evolving SMB market landscape and strive to maximize recurring revenue, it is crucial to expand product propositions, prioritize customer value, and seek strategic partnerships.
By embracing solutions that complement your existing offerings, providing clear upsell paths, covering maximum demand with minimum overhead, and partnering with the right vendors, you can create a thriving ecosystem for your SMB customers.
Do it all with digital tools
inTandem by vcita is an SMB technology platform designed to serve the needs of SMB service providers. Organizations that serve the SMB market can partner with inTandem to expand their proposition and provide their clients with tools to increase productivity, grow revenues, and manage their finances. With hundreds of thousands of SMB users worldwide, and partnerships with banks, financial service providers, marketing agencies, MSPs, and telcos, inTandem delivers an innovative digital platform that helps organizations engage their SMB customers, increase retention, grow brand awareness, and develop new revenue opportunities. inTandem is powered by vcita, a technology solution helping SMBs thrive in today's digital world.