In the pursuit of gaining a competitive edge in a highly competitive market and developing sustainable revenue opportunities, strong partnerships are a key factor in achieving your goals as a marketing organization. Your clients are important to you, and making them feel like you are their go-to guru for all things business related will help build and foster long-term relationships which will lead to an increase in your bottom line. A successful partnership will help unlock new revenue potential, expand your business offering and boost customer engagement in ways you might not achieve on your own.
When seeking a partnership, you want to focus on finding symmetry between both sides that complement your business goals. As a result of years of experience nurturing successful global partnerships, at vcita, we understand the goals marketing agencies set for themselves and have a customizable solution that suits the needs of each individual agency. vcita's tailored solution serves 1.4 million users worldwide as well as the expectations of marketing agencies and helps them to go way beyond their current offering.
Expand your business offering
Sure, you have a full suite of products and services you currently offer – anything and everything from SEO, website building or social media management to ads and review. But it can be difficult to see revenue generated by your lead generation efforts due to the high rate of churn many SME clients are at risk of.
We know that your small business clients are looking for an all-in-one solution that brings all their needs under one roof. A recent vcita survey showed that 92.6% of respondents are using anywhere from 1 to 6 different tools to run their business. As a busy business owner, switching between so many different tools while trying to integrate them and get them all to work together is a hassle. It's time to offer them a one-stop-shop for all their needs.
vcita's platform offers everything your clients need to manage their time, money, clients, and marketing securely, in one app that works both on desktop and mobile, so your clients can manage their business anywhere, anytime. It's the perfect supplement to your current offering. They can convert more leads into loyal clients, communicate with their clients, invoice and auto-bill, make better-informed decisions about their business and most importantly, look to you for any help.
Become a SaaS Provider
By offering vcita to your small business clients, your relationship with your clients becomes much more than just on the surface business, it deepens to a point where they are consistently engaging with you. With the ability to cut time on admin work, streamline payments, and schedule and personalize their communication with their clients, they will be logging into your app on a daily basis and you'll become a part of their everyday activity, increasing your brand's visibility.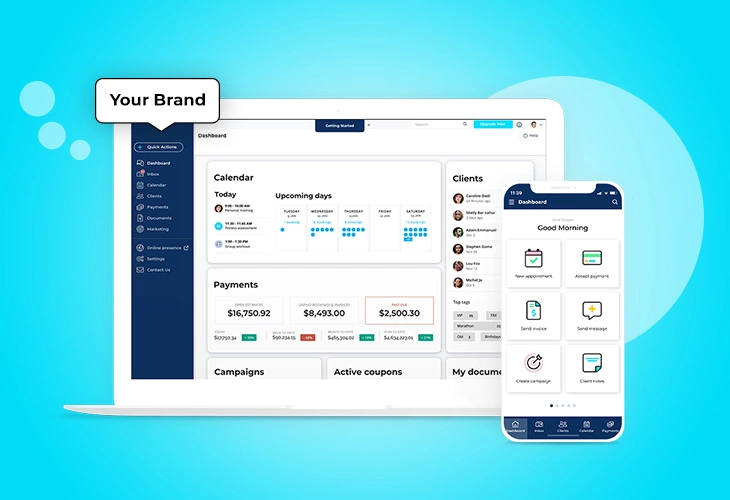 With our open API platform, you can also integrate any of your own apps as well as locate any apps you work with in our app marketplace. This will allow you to create one solid solution that streamlines your time to market and offers everything your clients need to run a successful business. With the help of your vcita partnership, you can become a SaaS provider, which means you are taking full advantage of the new digital trend and future proofing your business.
Unlock new revenue potential
With all the added features you'll now be offering, like a superior CRM, invoicing and billing capabilities, communication, lead collection and more, you'll be able to increase your asking price and expand your offering to others who normally might not consider working with a marketing agency.
In addition, as a vcita partner, you could get a cut from any transaction that is processed in the platform by your clients. Yup, everytime they accept a payment, you get a percentage to even further increase your bottom line.
With vcita, you'll gain crucial insights into the activity of your clients so that you can identify upsell opportunities and offer better service. The vcita platform leverages user data to offer smart and actionable insights using reports and analytics. See where your clients are focusing their efforts and gain the ability to offer them more support, while maximizing your upselling opportunities and attracting new business along the way.
Boost customer engagement
With a platform that offers a complete suite of your own products and services on top of vcita's, your clients are going to be sure to log in on a daily basis and complete the most trivial to the most important of everyday tasks for their business. The fact that the app is branded to your logo and colors means further exposure for your business and strengthening your brand identity amongst your clients.
Your new app, with all the features a small business needs to successfully complete their digital transformation, will create stickiness and boost the amount your customers engage with you on a daily basis. Your clients won't want to look further into other products when your app and solution is their end all, be all.
Become a part of vcita's flexible partnership program
When entering a partnership, you want a company that understands and aligns with your needs and expectations. vcita does just that. We tailor our platform to your desired outcomes and allow you to mix and match your preferred services with our existing ones.
There are two main partnership models at vcita.
Having your own app with vcita in the background
You are currently selling your marketing related services which is great, however, it caps your growth at a certain point. In this model we help you gain new revenue potential by granting you access to the tech we've developed over the past 10 years to run as your own, whitelabeled or co-branded platform. This model is ideal for businesses with a team of experienced sales professionals who know their clients and how to reach them best.
With this model you can sell your own all-in-one platform that combines your own products with the features and support that vcita has to offer.
The referral model
If you're not sure how to reach your clients or aren't sure your sales team has the bandwidth to sell your new solution, we also have the Referral model. In this model instead of adding to your already busy sales team, you refer your clients to us and we can then sell the vcita platform that is still whitelabeled or co-branded. We help you create the buzz about the solution and can even sell it on behalf of your company so that you remain at the top of your clients' minds as they grow.
With over 10 years of experience nurturing successful partnerships, we have the technology and the team to support you on your journey towards growth. With vcita, you make a bigger impact on your small business clients and your bottom line.