As Director of Customer Success & Sales at vcita, I've seen firsthand that it's a tough world out there for small business owners, as they often find themselves juggling multiple responsibilities with a limited team and a fluctuating budget. One thing I know for certain is that small businesses still need big solutions, which is why they often turn to their trusted marketing agencies when the going gets tough.
Take, for example, Maria Rodriguez. Maria owned a cute little yoga studio in bustling downtown L.A., but she was struggling to attract affluent new customers. Despite her best efforts, she wasn't seeing enough of her website traffic convert into business to keep her business afloat and began to panic about cash flow. That's when Maria, a vcita user, turned to a marketing agency that partnered with vcita for help.
The agency listened carefully to her concerns and took a comprehensive approach to understanding her business. They researched her competition, analyzed her target market, and helped her develop a marketing strategy that was tailored to her needs and goals. With their support, Maria was able to target the ideal customers with a resonating, niche message, and she saw uptick in foot traffic within weeks.
Maria's story is just one example of how marketing agencies can make a real difference in the lives of small business owners. As someone who has worked closely with agencies that serve the SMB market, I can attest to the fact that they are uniquely positioned to serve as trusted advisors to their clients.
In this article, I'll share the most common pain points SMBs face in 2023, and how the marketing agencies I work with help them overcome these challenges. I hope to provide valuable insights to help agencies become even better partners to their SMB customers. So, grab a cup of coffee, and let's dive in.
Look out for these common SMB pain points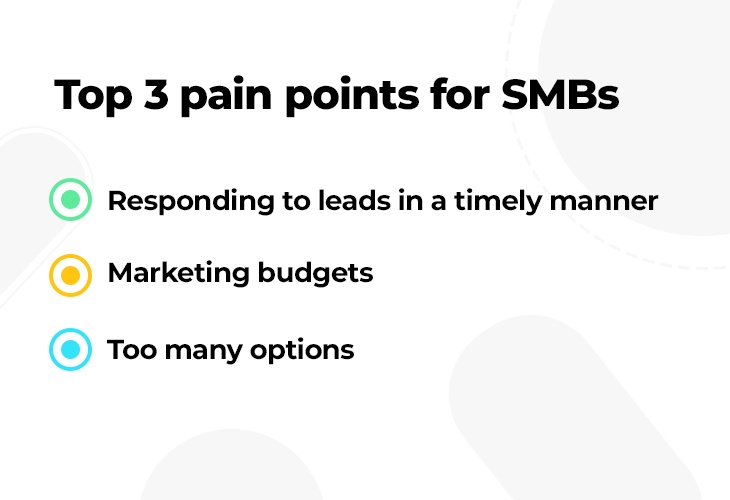 1. Pain Point: Inability to respond to leads in a timely manner.
As a marketing agency, it's essential to help your SMB clients make the most of every opportunity, and responding to leads quickly is a critical part of that. Many small business owners find themselves bogged down with administrative tasks and back-office work, leaving them with little time to focus on responding to incoming leads. In fact, studies show that 68% of SMB owners' time is spent tackling daily issues and tasks, leaving just 31% to strategically grow their business. This can result in missed opportunities and lost revenue, which can be particularly devastating for businesses that are just starting out.
To help your SMB clients overcome this challenge, it's important to simplify their lead capture process and ensure they receive timely notifications when new leads come in. One effective approach is to use tools that enhance lead capture by notifying SMBs of new opportunities so they can take action immediately with quick and efficient responses. This not only saves time but also reduces the risk of missing out on potential business.
In addition to streamlining the lead capture and notification process, it's important to provide your clients with tools for scheduling appointments and sending personalized messages. Skip the back and forth of form submission, requiring follow-up phone calls and instead make it possible for potential clients to book the introductory phone call right out the gate. Doing so will increase the chances of converting leads into paying customers.
Another helpful approach is to provide your clients with resources and guidance on how to prioritize and manage their leads effectively. This starts with teaching SMBs to see leads as more than just one-time opportunities. Leads are contacts that should be nurtured over time. After all, repeat business is one of the most important avenues to increase revenue with repeat customers spending 33% more than new customers. By working closely with your SMB clients and offering this type of guidance, you can help them build a more effective lead management system and maximize their chances of success.
2. Pain Point: Limited marketing budgets
SMBs rely heavily on marketing to attract new customers and grow their business, but unlike larger businesses, their resources are often limited. SMBs may feel that they can't compete with larger businesses that have more resources to devote to marketing.
This can lead to frustration and a sense of hopelessness, particularly if they don't see the results they were hoping for from their marketing efforts. One key solution is to showcase ROI, and that's where marketing agencies can really step up to the plate.
As trusted advisors to SMBs, agencies can build solid pipelines of business opportunities that convert into real revenue. However, it's not always easy for SMBs to connect the dots between marketing activities and the bottom line. That's why it's crucial for agencies to provide crystal clear reporting that attributes new business to their activities.
By showcasing ROI, agencies can demonstrate the value of their services and help SMBs make informed decisions about their marketing investments. SMBs appreciate the ability to view the full pipeline: how many leads were generated and converted, and how much revenue was generated as a result. This transparency builds trust and secures the agency's place as a valuable partner in the SMB's growth journey.
3. Pain Point: Too many vendors
Running an SMB often means juggling a thousand different tasks at once. On top of providing products and services to customers, SMB owners also need to wear multiple hats – CEO, CFO, CMO, head of HR, head of IT, and the list goes on.
From website designers to social media managers, and SEO experts to copywriters, SMBs often need to rely on a variety of vendors to help them grow their businesses. However, managing multiple vendors can be a headache, especially for business owners who are already stretched thin.
SMBs may find themselves drowning in a sea of emails, phone calls, and meetings with various vendors, leaving little time for actually running their business. With too many vendors to manage, it's easy for important tasks to slip through the cracks.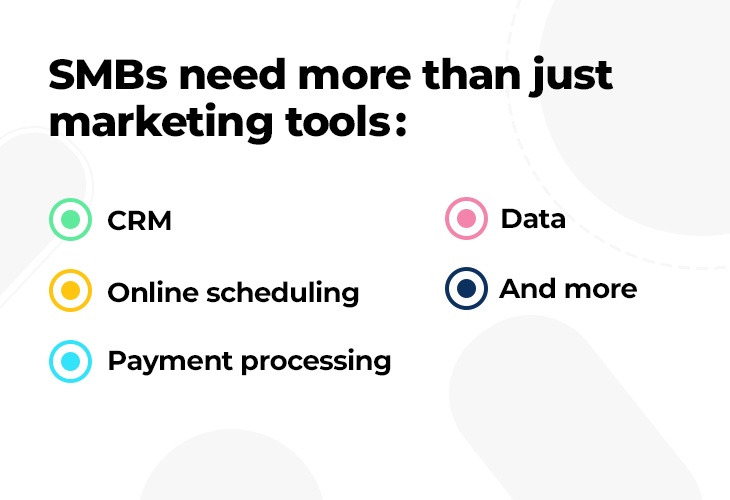 At the end of the day, SMBs need more than just marketing tools in order to thrive; they need client management tools (CRM), time management tools (online scheduling), money management tools (payment processing), and access to their data.
By expanding your offerings, your agency can provide a holistic solution to your SMB customers, reducing the number of vendors SMBs need to work with. This not only saves SMBs time but also reduces the hassle of managing multiple vendors. It's a win-win situation.
Offering a "one-stop shop" for marketing services can also increase customer loyalty and retention. By providing a range of services that cover the various needs of SMBs, your agency can become a trusted partner for SMB customers.
Wrapping up
As someone who works closely with marketing agencies, I've had the pleasure of witnessing firsthand how these agencies can serve as trusted advisors to their SMB clients. By helping small businesses overcome their biggest challenges, agencies can not only benefit their clients but also enhance their own business goals.
When you provide much-needed services and advice to your SMB clients, you not only increase their perceived value but also establish a sense of loyalty that reduces churn and increases ARPU. As a result, you become more than just a vendor – you become a true partner in their success. Not only will your SMB clients enjoy access to the multiple services you offer, but you will also benefit from customer loyalty. Sounds like a synergetic relationship if we've ever heard of one!
vcita partners with leading organizations that serve SMBs to propel forward a joint vision of empowering SMB digital transformation. To learn more, check out vcita's partnership program.