Maintaining a competitive edge and providing outstanding value to customers are essential in today's quickly changing business environment, especially for companies that cater to small business clientele. Small firms are more demanding than their larger counterparts, have distinct needs, and lack the unrestricted funds of more established businesses.
Organizations frequently look to white label SaaS software partnerships for assistance when trying to obtain a competitive advantage, optimize and modernize fulfillment, and improve their offering.
In order to help you be best prepared to start this new path, this blog will explain how to recognize whether your company is ready for a white label SaaS software partnership.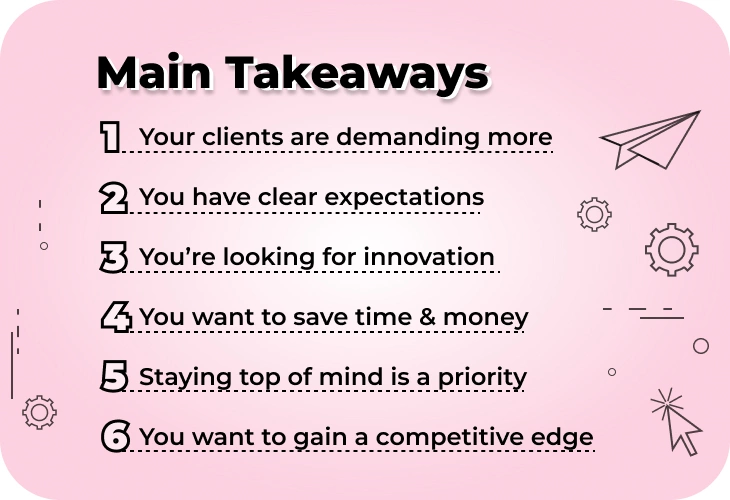 Clue #1: Your clients are demanding more
Your clients, though happy with the services you currently offer, might be looking for more, indicating it's time to expand. If you're offering lead capturing services, for example, your clients may need tools that will help them better manage the entire customer journey, turning these leads into clients. In this case, a white label CRM might be the perfect complement to your current offering.
Or perhaps you offer financial services to small businesses but lack the data to make better informed risk decisions. Partnering with a SaaS solution that offers you those insights would be priceless and enable you to better serve your small business clientele. Understanding your clients' needs and partnering with a SaaS solution that answers them will create a lucrative opportunity for your business to take advantage of.
So if your services aren't answering all the needs of your clients, and expansion is on the horizon, your business is ready for a white label SaaS partnership.
Clue #2: You have clear expectations from the partnership
If you can envision a SaaS partnership, but really envision it: the successes, how it will complement and expand your current offering, the risks, the goals, your revenue potential, etc., then chances are your business is ready for it. Having clear goals and KPIs for the partnership will help keep you focused when it comes time to start researching SaaS providers and choosing the right one.
If your goals are increasing ARPA and boosting revenue from your existing client base, then a white label SaaS partnership is a great avenue to explore. Or maybe you're looking to reduce churn and increase brand loyalty among your small business clients. Whatever your goals, make sure they are at the forefront of the partnership agreement and that your SaaS partner makes them a priority.
Clue #3: You're looking to bring innovation
Innovation is an important part of beating out your competitors. By partnering with a SaaS provider, you can improve your services and create a solution that will impress your audience. You can leverage your SaaS partner's expertise to deliver personalized services that differentiate your business from competitors and increase client satisfaction. This level of innovation comes easier with a white label partnership because it enables rapid development with minimal investment of resources on your side. If your company is gunning for innovation and looking to introduce new technologies to generate value, a white label SaaS partnership is a smart move.
Clue #4: You want to save time and money on development
With a white label SaaS partnership, you can expect an out-of-the-box solution, ready to be sold to your clients. Your SaaS partner can take care of the customizations, so you don't have to invest as many resources. Because the SaaS provider has the knowledge and expertise, and this is a white label partnership, all the development work is on their end. This means you receive a ready-to-go solution in weeks as opposed to years, helping your business increase revenue streams and strengthen brand loyalty. All this with minimal investment on your end. So if you're looking to save time and money on developing a new solution or service, then exploring SaaS solutions is your next step.
Clue #5: Staying top-of-mind is a priority
By adding a SaaS solution to your current offering, you not only attract a new audience of clients who might not have been interested in your offering previously, but you also increase the stickiness of your services, as your clients will now use your services and your new solution on a daily basis. You'll be in front of your clients' eyes 24/7 as your new offering meets their most business critical needs, and your logo and branding are presented front and center.
On another note, you can use this update to your services to attract churned clients and create new upsell and cross-sell opportunities. If staying top of mind, and increasing brand loyalty among your small business clients is important to you, you're ready for a white label SaaS partnership.
Clue #6: You want to gain a competitive edge
This is one of the biggest advantages of a white label SaaS partnership. Since the solution is completely customized and tailored to your clients' needs, you'll be the favored option among your competitors. You'll wow your clients and show them that their needs are important to you. Most small businesses are looking for partners, not vendors, and deploying a solution that answers their most burning needs and desires, enables you to support them on a level you couldn't offer prior. In addition, your competitors are likely moving in this direction, so not doing the same might cause your business to fall behind. White label SaaS partnerships are a great way to gain a competitive advantage and increase the chances that your clients will keep their business with you.
Are you ready for a white label SaaS partnership?
White label SaaS partnerships are an excellent way to strengthen brand loyalty, increase ARPA, gain a competitive advantage, and save time and money, among other benefits. Entering a white label SaaS partnership is an exciting journey, however, how do you know whether your business is ready for it or not?
Ask yourself the right questions, do the research ahead of time, understand how the partnership should work, and make sure to choose the right partner. If you're looking to expand your services (or anything else on the list above) you're ready for a white label SaaS partnership.
vcita partners with leading organizations that serve SMBs to propel forward a joint vision of empowering SMB digital transformation. To learn more, check out vcita's partnership program.