The chances are that if you've created your own marketing agency, you're dedicated, diligent, and have a taste for the creative. You probably are an imaginative person, who is skilled at balancing both the expectations of your clients and the practical constraints of the market, and enjoy seeing your concepts come to life, with real-world results.
Even if you've mastered all the skills above, you may not know how to grow your marketing agency to scale, or the process of transitioning to a role that sees you maximize lead generation, close accounts, and step back from managing everyday tasks within your business.
In a webinar hosted by vcita, we heard marketing agency coach, mentor and advisor Jason Swenk break down his tried-and-true strategy for agency development.
What you love doing vs. what you hate doing
Jason recommends that in order to craft a roadmap to success for your agency, you should start by understanding where you thrive and in which areas you should embrace delegating and outsourcing.
Take a piece of paper and label one column "What I love doing" and the other column "What I don't want to do." Spend an hour or so sitting down and really thinking about what parts of your business inspire you, and which aspects you dread.
For Jason, he realized that day-to-day project and account management, as well as interacting with clients, were the parts of his agency work which he liked the least. The good news, Jason explains, is that once you've targeted which aspects of your agency resonate with you the least, you can assign tasks and responsibility for those elements to other people within your business.
Creating a powerful vision for your agency
After you've identified your favorite parts of your business, it's time to draft your agency's mission, which will provide the framework for your growth and scaling strategy. Determine which industries, sectors, and clients excite you, and which spaces you don't want to be in. This helps you figure out your niche and area of expertise when it comes to taking on new clients.
From a financial perspective, you should take an honest look at where you're standing, then set goals for where you'd like to be in one year, two years, three years, and four years in the future.
Spelling out the "why" — the driving force behind your agency and the reason you've chosen to create your venture — is also a critical step towards determining your profitability model, as well as how you want your team, potential clients, existing accounts, and the industry as a whole to view you.
What are the 6 stages of scaling?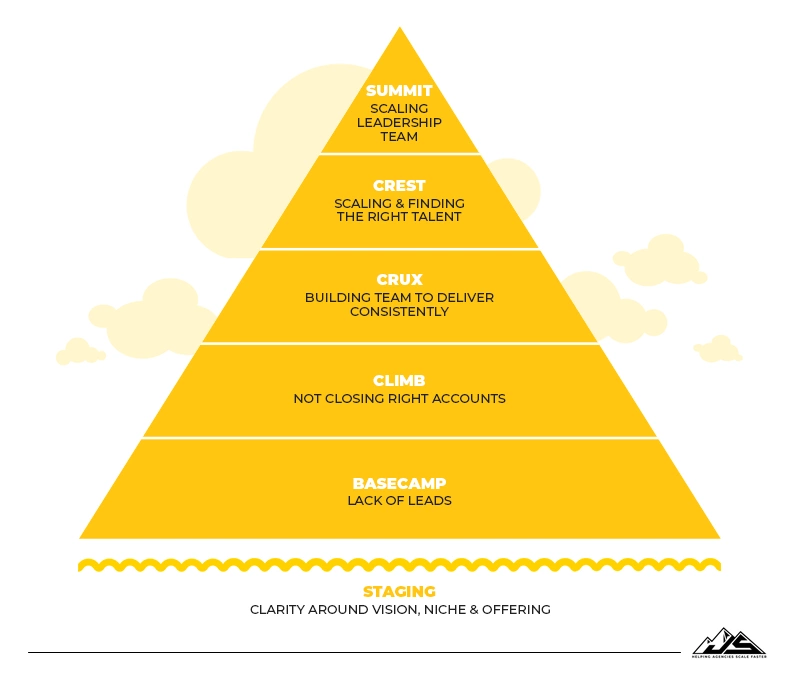 With the ultimate goal of either going public or selling your agency in mind, according to Jason, scaling your business can be broken down into the following 6 stages.
1. Staging
During this phase, you're still looking for clarity around your vision, niche, or offering. Your main priority is getting your business off the ground.
2. Base camp
In this phase, you're still establishing your business. A lack of leads is probably a top-of-mind concern, and you're actively searching for new accounts.
3. Climb
During this phase, some of your business development tactics are working, but not with major success. You may not be closing the right accounts, or perhaps you're relying on a referral-based model which sees you closing the same accounts over and over again.
4. Crux
At this point, you're breathing easier but you're still very much involved with routine operations at your agency. You're constantly being pulled back into projects and account management, and your biggest challenge is finding a team that can deliver consistently, both for everyday tasks and leadership-level planning.
5. Crest
In this stage, you're getting a ton of business, and you're no longer involved in the day-to-day functioning of your agency. This is the time when you're focused on scaling and finding the right talent, so you can move on to the final phase of your business.
6. Summit
At this point, your primary focus is scaling your leadership team. You're building up employees who can continue steering the ship and push your mission forward during an IPO or acquisition.
Leveling up from one stage to the next
Moving from one phase of your agency's development to the next can be challenging. Jason breaks down what you need to accomplish in order to level up and continue pushing forward.
Staging to base camp
Once you've defined your agency's vision, including your financial goals, niche, and the motivating force behind your business, you can climb from staging to base camp. At this point, it's critical that you build a lead generation system that offers you a plethora of new leads flowing your way.
A key factor for success in closing leads is standing out from your competition with a memorable brand identity that's unique to your agency. Position yourself as the trusted advisor to your potential client, a kingmaker who's there to propel your customers to success.
Creating content, like a podcast, allows you to reach out to your perfect prospects and build a powerful brand. Content also helps reinforce your positioning as an expert in your field.
Base camp to climb
As hard as it may be, this is the time when you should be stepping back from a front-and-center sales role. Develop a system that makes it easier for your sales team to get their foot in the door and for your lead to say yes.
Propositioning your lead to partner with you on a limited-time project helps build trust. Rather than pushing for a month-to-month retainer, offer an hour-long meeting that gives the prospect a blueprint for success (it's important to note that the lead should pay for this!)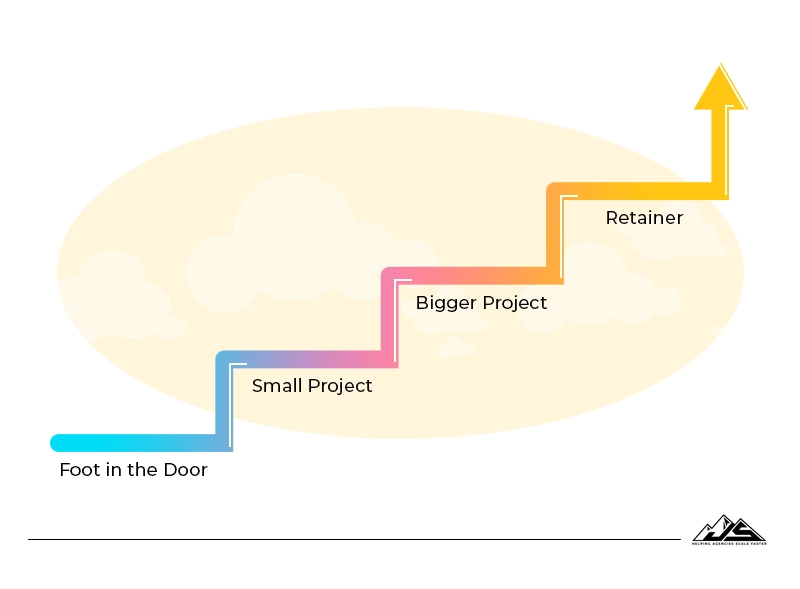 Once your prospect has reviewed your roadmap and approved it, you can introduce the idea of partnering together on a larger project. When you've proven success on that front, your client is far more likely to agree to a long-term commitment.
Climb to crux
Building the right team is critical during this phase. You shouldn't be involved with your agency's day-to-day operations – you need trusted employees who can do project and account management, client communications, and business development, without you needing to be directly involved.
That means you need to develop SOPs (Standard Operating Procedures) that define how things are done within your agency, as well expectations around success. You may want to bring in an external expert in this area to help you create the right SOPs for your business.
At this point, you should be delegating tasks to your project managers and account managers. Be sure that everyone is clear on what their role is within your business. Spell out clearly who needs to be prioritizing day-to-day operations and who should be positioning new opportunities to prospects and upselling existing clients.
Crux to crest
This phase is when you should transition from the role of owner to the role of CEO. This looks like allowing your team to execute the tasks that keep your business functioning on a daily basis, from client outreach to lead generation, with no involvement on your end.
Transforming from owner to CEO means that you should:
Set the vision and communicate it often
Coach and mentor your leadership team
Be the face of the agency
Build key relationships
Understand the KPIs and financials
Jason warns that being the leader and CEO might be difficult for some agency founders, who are used to being deeply involved in all aspects of their company's operations. But stepping back from those roles and focusing on your CEO-level management of your agency is what gives you the ability to transition from crest to summit.
Crest to summit
At this stage, you should be prioritizing scaling and developing your leadership team. You can choose the route of an IPO or acquisition, but either way, this represents you continuing your shift away from being directly involved with your agency's overall functioning, business operations, and workflows. You should plan for your transition into a role on your company's Board of Directors, and consider bringing on senior C-level executives, including a CEO.
Differentiating your agency
Jason recommends avoiding scoping out your competition, in order to avoid inadvertently emulating them. Imagining how you would position yourself, should your client pay you based strictly on performance, can be extremely helpful. Focusing on your strengths and what drives amazing results will help you develop your agency's unique identity.
How to hire for your agency
To recruit the right talent, you need to identify your core values and ensure that your hiring strategy is in line with your beliefs and perspective. Bringing people on board whose beliefs are aligned with yours is a solid starting point for getting talent that will serve your agency well and stay with your company for the long-term.
Staying up to date on tech and software developments
As digital platforms, algorithms, and AI evolve on what feels like an everyday basis, Jason recommends that you focus on foundational solutions that will stand the test of time. Utilizing experts within your organization who can help guide you through the latest advancements in technology is also a good move for future-proofing your success.
Rethinking your pricing
Jason says understanding the value you deliver to your clients is critical for determining the right pricing for your services. Don't rely on what your competitors are charging. You might also consider keeping your older clients at a certain rate, and then charging more from new accounts that you're onboarding.
Leveraging your track record of success with existing clients also means that you can raise your prices. While Jason acknowledges that there's a possibility some clients will leave rather than agree to the price increase, in the case that many do agree to it, you'll end up making the same amount but with less accounts to manage.
You're ready for your agency to level up. Now what?
Delivering value to your clients and giving yourself a competitive edge over other agencies in your space are the keys to growing your business. Technology like vcita, which provides a tangible application for everything from scheduling to payment collections and more, can help you add built-in, practical value for your small business clients. If you'd like to learn more about using vcita to help your agency grow, get in touch with us.
About Jason Swenk
A marketing industry veteran with more than 12 years of experience in the field, Jason is a strategic consultant, mentor, and coach who helps marketing agency owners grow their businesses to scale, faster. After selling his own agency in 2012, Jason pivoted to guiding proprietors through the process of strengthening and building their businesses for eventual acquisition or going public.
He is the host of the Smart Agency Master Class podcast, the number one marketing podcast covering the stories of marketing agency owners and the real-world techniques they leverage for success. Jason is part-owner and a Board Member of Repulix, an agency valued at over $30 million.